Corner of the sky
(inspired by Bo Bice)
Rebirth. Renaissance. A new lease on life.
This is the state on which I'd put myself on. I know that I have been really apathetic over a lot of matters. I have ignored the friendships that I have, ignored a lot of good advices that my best friends keep on repeating to me and basically tried to do things my own way. Well, I guess that in doing things my own way, I have hurt a lot of my friends, my family and even my acquaintances in the process. This is my sincerest apology to the people whom I think I had deserted during this particularly bleak period in my life.
I think that this day has really changed me. I just chatted with Teejay, a person who I consider very special to me. It's so nice to be able to communicate with him after a long time... I just hope that things turn out the better for both of us...
On the other hand... I can't wait for the results of the Finale ! Both Carrie and Bo dished out their best performances... I think both of them are quite deserving to be crowned the next American Idol after Kelly Clarkson, Reuben Studdard and Fantasia Barrino... here's to Bo and Carrie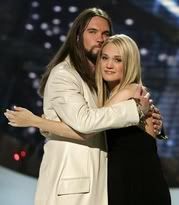 Reality Fever Break
I admit that I'm an addict of reality TV. I think I'm one of the geeky guys who could pretty much name the different teams which have participated in the Amazing Race since it's conception up to the different places they have visited, the detours which they have done and as to who did the roadblocks. I think I'm also one of the minority who has pretty much memorized the bootlist of every Survivor season and memorize the different tribes and all that stuff... And since American Idol was first shown here in Asia, I am pretty much sure memorized every song that each idol performed during each theme week and as to who get booted off each week... But since every season of my favorite reality tv shows are finished, I can't find anything on the boob tube which could satisfy my craving... I can't even appreciate the different shows and movies which are shown in HBO, in CINEMAX and in AXN... I admit, I'm pretty much suffering from Reality TV Withdrawal...
on another note... I just hope that the two remaining idols really dish out their best in the finale this coming wednesday... go Carrie !!! go Bo !!
AI Fever
I'm really nervous for Carrie Underwood and Vonzell Solomon after their somewhat mixed performances yesterday.... I just hope that their fans powervoted for them... By the way, here's my list of my favorite AI performances from the contestants...
Mario Vasquez - Do I Do (top 24)
Anwar Robinson - Moonriver (top 24)
Carrie Underwood - Could've Been (top 24)
Aloha MIscheaux - Work It Out (top 24)
Anwar Robinson - MoonRiver (top 24)
Constantine Maroulis - Kiss From a Rose (top 24)
Lindsey Cardinale - Standing Right Next to Me (top 24)
Mikalah Gordon - Young Hearts Run Free (top 24)
Bo Bice - Drift Away (top 24)
Bo Bice - Whipping Post (top 20)
Mario Vasquez - I Love Music (top 20)
Mikalah Gordon - God Bless the Child (top 20)
Scott Savol - I Can't Help Myself (top 20)
Nadia Turner - Try a Little Tenderness (top 16)
Nikko Smith - Georgia on My Mind (top 16)
Constantine Maroulis - You've Made Me Feel So Very happy (60's)
Nadia Turner - You Don't Have to Say You Love Me (60's)
Bo Bice - Spinning Wheel (60's)
CARRIE UNDERWOOD - ALONE (BILLBOARD # 1 ) <- THE BOMB
Anthony Federov - I Knew You Were Waiting (Billboard #1)
Jessica Sierra - Total Eclipse of the Heart (Billboard #1)
Vonzell Solomon - Best of My Love (Billboard #1)
Constantine Maroulis - My Funny Valentine (Broadway)
Vonzell Solomon - People (Broadway)
Bo Bice - Free Bird (Birthday year)
Carrie Underwood - Love is a Battlefield (Birthday year)
Vonzell Solomon - Let's Hear it for the boy (Birthday year)
Constantine Maroulis - Bohemian Rhapsody ( BIrthday year)
Scott Savol - She's gone (Birthday year)
Anwar Robinson - September (Disco Fever)
Carrie UNderwood - McArthur's Park (Disco Fever)
Vonzell Solomon - I'm Every woman (Disco Fever)
Bo Bice - Vehicle (Disco Fever)
Bo Bice- I Don't wanna be (2000 songs)
Carrie Underwood - Trouble (Rock songs)
Carrie Underwood - BLESS THE BROKEN ROAD (Billboard Charts)
Vonzell Solomon - When You Tell me that you love me