Wednesday, January 19, 2005
The Amazing Race updates and picks !
The inevitable happened. Jonathan and Victoria got eliminated in today's eppisode of the Amazing Race. After their Mediterranean pit stop in Corsica, they soon went to the eastern coast of Africa as the 6 remaining teams travelled towards Ethiopia. After seeing today's eppy, I can't help but feel a bit saddened by the exit of the highly volatile couple. I can't help but say that I'm gonna miss Victoria and Jonathan and their classic cat fights... Now lemme assess the five remaining teams in the race... Analyze their strengths and weaknesses.. stuff like that...
let's start with
Hayden and Aaron
Strengths: Wise in making detour and roadblock decisions. Basically, besides their caustic behavior towards each other occasionally, Hayden and Aaron are pretty decent racers.
Weaknesses: Crumbles under pressure. If things go their way, they are pretty unstoppable. But when things get tough and a bit crazy, Hayden and Aaron can't help but panic and crumble. When they do that, they will disintegrate and disintegrate and panic causing them to commit errors and blunder. Another weakness of the team is the difference between the personalities of Hayden and Aaron. Hayden is almost maniacal while Aaron is so laid-back that fights can't help but arise between the two of them. Plus, Hayden can't read maps... They're my 2nd pick to win the race. Let's go to
Kris and Jon
Strengths: Both of them are physically, mentally and emotionally competent in doing their stuff. When I first saw them, I thought that they would be eliminated outright. But Kris and Jon proved to be very efficient racers. They are always perky and make very good detour choices. Plus, Kris could read maps. They are the eye candy team of the season. Another thing that makes this team very formidable and a force to reckon with is their respect and camaraderie...
Weakness: I can't find no fault in the whole gameplay of Kris and Jon. Physically speaking, they are next to Lori and Bolo when it comes to brute force but Intellectually, they are the strongest. What could cause Kris and Jon to lose in the race is either a major airline problem, or being yielded by a team. They're my pick to win the race. Next is
Freddy and Kendra
Strengths: Well, I think they're a not so strong team physically. But what makes this team work is their strong relationship and that they acknowledge their weaknesses and try to compensate for this.
Weakness: I think Freddy and Kendra could fall behind the race because they aren't strong physically. But, if their alliance with Hayden and Aaron, they could win it all. I can't make up my mind whether to chose this team to become my third or fourth pick... Anyways,
Adam and Rebecca
Strengths: Rebecca !!! Rebecca is the one doing the job making their team progress in the race. She does all the hard and dirty work. Kudos to Rebecca !!!
Weaknesses: Adam !!! The biggest wuss ever to join TAR ! I mean, a simple task and he can't do it. Plus, the tension between them is there....I think they're strong physically esp Rebecca but I think they are one of the teams closest to self-destruction. Last is...
Lori and Bolo
Strength: Brute force ! They are the physical threats, the alpha dogs of the race
Weaknesses: They aren't that wise in making detour and roadblock options. In fact, I think they are the weakest team intellectually... I think a factor that may lead to their demise is the threat that they present to the teams and that they may be yielded. Or a wrong detour option could lead to their philimination...
All in all... here's my ranking:
Final three:
Kris and Jon
Hayden and Aaron
Freddy and Kendra/Adam and Rebecca
Lori and Bolo
=)
Bureaucratic Mayhem
I went to the SSS today because I need to get a copy of the SSS id. I called up the three different SSS branches nearest my location because I really need a copy of the ID. I went first to the Manila branch located in Arroceros since it's conveniently located near the mall and it's nearest our house. After I arrived in the vicinity, I was shocked to learn that their computers were online and that they can't process my request for a SSS ID. Feeling a bit dejected, I asked the guard if the branches in Binondo and in Espana have their computers fired up and running since I really want my card to be processed immediately. But this freaking guard can't even give me the telephone numbers and addresses of the other SSS branches. I mean, you're working there, you should at least know about the necessary stuff. I was beginning to wipe the floor off him when a lady told me the numbers and the address. I hurriedly hailed a fx so as to go to Binondo. In the Binondo branch, things turned out to be a bit brighter, the only problem is that they have to take their lunch break first. But, it turned out to be such a debacle when I was just a few inches away from the desk when they told us that they were facing a system upgrade. By this time, I'm beginning to get nasty. I mean, after lining up my ass for about two hours then they can't process my papers... Man, I'm so frustrated....
Tuesday, January 18, 2005
Slow Tuesday
I'm still exhausted after having my medical examination taken early this day and then getting my SSS Id number. The lines are so long, the people in charge of all the paper work possess an attitude problem. I was so freaking mad at the girl whose handling the SSS because she is a big bitch and is so rude that I can't help but take a cheap shot at her. Nakakairita sobra e. I mean, there you are doing everything in your power to finish your papers early then you'll be shouted at and bullied... HMMMP...
Anyway, I'm quite excited by the coming premiere of two of my favorite reality TV shows, namely American Idol and Survivor 10: Palau. Well... let's start by discussing American Idol
The fourth installment of American Idol premieres tomorrow. Frankly, I'm quite excited by the fourth season. There will be changes in the format because there are 16 slots guaranteed for male contestants in the final round of thirty two. I think the limit is placed because most of the seasons are dominated by the Femmes and Divas and they think that it's time for the guys to be given an equal playing field... Also, the audition round will be somewhat different since besides Randy, Simon and Paula, you'll have to satisfy the guest judges who are singers/musicians/etc. That's just some of the changes in the original format of AI (according to Joey and Miles of Magic). Frankly, I would love to see a Pinoy or a Pinay getting into the Top 12 like Camile and Jasmine. can't wait.
The tenth installment of Survivor is gonna be premiering this February. The setting is Palau, another group of islands in the South Pacific so I'm guessing that the scenery is gonna be like Marquesas and Vanuatu. Instead of the usual 16 or 18 castaways, the number of castaways have been upped to twenty. I mean 20 castaways for just about thirty nine days. Hmmm... I just hope that the 10 th installment of Survivor is gonna be better than the letdown that I received when I watched Vanuatu's ending. I was really, really disappointed with Chris... That bastard.
"Sunday Morning"
You may call me somewhat time-challenged coz it's already the afternoon of Monday but believe me... it's the title of my post today. I would like to talk about going to the church... a real Roman Catholic Church. For some unknown reason, I was persuaded to go to the church nearest our residence by my older sister yesterday. I woke up around 7 (early riser) and immediately went to the shower so as to do my morning rituals. On the way to the bathroom, I was accosted by my sister and said that she's going to the church and that she needed a companion. I tried stalling and said the usual alibis such as that I'm tired(which I wasn't since I did not go to Malate the previous day and I've just slept the whole Saturday off). But, there's something in my brain and body that compelled me to go and accompany her for the eight o clock mass. Frankly speaking, it's the first time for about more or less two years to enter a church(the last time I was inside a church was when my mother was being interred). I'm a bit shocked by the feeling of familiarity and deja vu as every memory of being inside the church came flooding back into me. I guess the feeling was a bit nice. I even manage to get the psalms and the responses correct. And frankly, I was not even irritated anymore by the pompousness of the priest celebrating tghe mass. Quite weird.
=)
Thursday, January 13, 2005
Teleperformance now !
After a highly unproductive stint of selling products... (can't say the brand).. I finally had enough with ICT Group. I filed my resignation letter today after my shift and then said that I have to resign because of personal reasons. I know that the HR there understands me because I manage to become friends with one of them and they all knew the different predicaments and things that happened to me throughout my stay there. So, I'm basically out of job. After I left the office of ICT for the last time, I went along San Miguel Avenue and decided to apply in Teleperformance, a small and I think, compact call center. I've heard good reviews about it in Pinoyexchange and since I'm basically out of job, I decided to apply. After the usual resort of test (both written and in computer), I had my final interview today. After just about 10 minutes after I was interviewed, the HR Faith called my name and said that I passed the whole process and that they're gonna call me up next week regarding my training schedule. I just hope that my stint here in Teleperformance will be a whole lotta different than what had happened in ICT.
----
I really like this song of Jojo... Sounds ooh-so sexy and full of that rhythm.... whole lotta fun.. and her voice is quite radio friendly... I can't help but bop my head to this song everytime I listen to it in the radio.
Baby It's You by Jojo
Can somebody explain to me
Why is everybody trying to be
Living like a Celebrity
Doing what they see on MTV
Ice is cool but I'm looking for more
Simple things is what my heart beats for
Cause that's me, I don't ask for too much
Baby, having you is enough
Chorus:
You ain't got to buy nothing
It's not what I want, Baby It's you
We don't have to go nowhere
It's not what I want, Baby It's you
I know you got a lot
No matter what you do
You always gettin hot
It's you, It's You
Baby all I want is You
It don't matter what car you drive
Or your wheels are spinning in the side
It don't matter where we go tonight
Coz If I'm with you it'll be alright
That's cool but I'm looking for more
Cause that's me, don't have to spend a dime
Baby, I just want your time.
Repeat Chorus
Musical Break
Repeat Chorus till Fade
Wednesday, January 12, 2005
On Reality TV!
One of my biggest ambition/dream/wish is to become a contestant in a reality tv show like for example Survivor and The Amazing Race. Being a very dilligent watcher of reality tv shows, I can't help but imagine myself being in the position of the racers and the Castaways. I even entertained fantasies of me being a Racer up to the point that I even choose my sister to become my team mate in the Amazing Race and picking detours and roadblocks... But, what really attracts me to become addicted in the different reality tv shows is that I guess that you're true colors will come out during the whole race. However, due to a research I have done while doing my article, "Gaano katotoo ang totoo?", that what we really see in tv is the edited portion, a glimmer, or is just a figment of what is really happenning or transpiring behind the camera. It's called a something effect which I forgot. Oh well, but I guess edited or not, I would like to become a reality tv contestant.

I can't help but ogle at this guy.
----

TAR EPPY today: Adam and Rebecca walk towards 1st place while Hayden and Aaron slumped to the last place but was given a reprieve when they learned it's a Non-elimination leg.

Routemarkers: After departing the pit stop in Budapest, Hungary, teams would have to travel to Budaford to find their clues next to the largest wine cellar in Hungary. After reading the clue, teams were instructed to go to Ajaccio, Corsica France and find the house where Napoleon Bonaparte is born. Then, there's a FFWd which Adam and Rebecca took which instructed them to seawalk. Detour is located at Camp Rafali. Choices include Climb Up where the teams have to use an ascender to scale a 45 foot wall and go to a walkway and receive a medallion from the Frenchmen and then rappel down the wall. Fly Behind is the other option where a teammate has to direct the driver of the speedboat and find a clue in the buoys. Hayden and Aaron, Kris and Jon, Lori and Bolo and Freddy and Kendra opted for Climb up while Jonathan and Victoria choose Fly Behind. After getting their clues, they found out that they have to go to the village of Zilla and encountered a roadblock. RB made the teams stomp on grapes and fill 5 bottles of grape juice. Kendra, Kris, Aaron and Jonathan did the roadblock.
rankings:
1. Adam and Rebecca
2. Freddy and Kendra
3. Lori and Bolo
4. Kris and Jon
5. Jonathan and Victoria
6. Hayden and Aaron
I'm just wishing that my teams, Adam and Rebecca, Hayden and Aaron and my favorite Kris and Jon continue their run in the race.

Mishmash
I know that I have not been updating my blog since last week. I know that I have been slacking off in updating my blog. Well, i think it's because of the different kind of pressures and stress that I have encountered these past few months. It seems to me that I'm always grasping for time. So, I guess I think i have to revert to my old self and at least continue on blogging faithfully.
On with the 1st topic: Children
this Is my Nephew: Peter Benedict aka "Bibbi"
I just came in from a two-day vacation in Cavite. I went there because it's the 2nd birthday of my nephew and godson Peter Benedict or Bibbi as he would like to call himself. Oh well... I think he's the only reason why I like kids. He's just so bibbo and intelligent. What really made me smile last Saturday is when I gave him a Hotwheels Cadillac Escalade and he just beamed and smiled at me while saying "Chinks" (from my petname Chicken ) and "thanks"... aaah... The whole weekend, I played with him and played with him... He's so bibbo and goddamn funny... Normally, i don't like kids. I even come to the point that I despise them cause they're all whiney and so hyper-active. Well Bibbi is all that but I guess there's this bond when you're his relative... one can't help but fall to the charms of a child... aaah... btw, I managed to snog a cutie from the party... HB... hehehehe... can't tell the details...


2nd topic: Jon of the Amazing Race 6
Isn't he hot??? (Kindly ignore the "halaman" that is beside him)
He's the current apple of my eye. Jon of Kris and Jon team in the Amazing Race 6. Look at the package... the defined abs and that pecs... plus a nice face. But what really is the thing that I like about him is that he's not pushing his partner. I mean he isn't that asshole kind of fellow... aaah... i think i would be perfect for him... This team is so perky and cute and optimistic... not a cuss word from any of them in the race... such a refreshing sight after all the heckling of Jonathan and Victoria and Freddy and Kendra...hahaha... dream on henry... dream on...
view the series of photos and watch where Jon's hand is placed in this picture... if i'm correct... he's touching his crotch...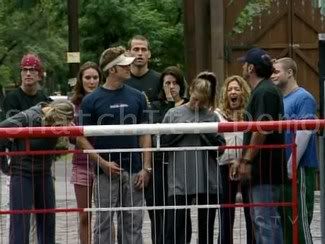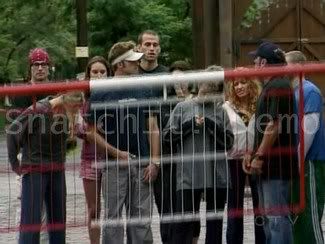 OOh... it's so vibraty comment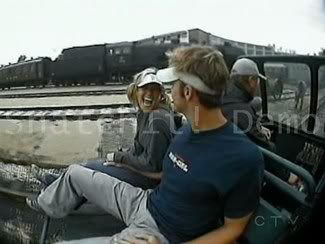 New Year: New Start
It's currently the third day of 2005. Ciao 2004. I don't wanna go reminiscing and glossing over the things which I have done, and have not done. Well... maybe later or tomorrow. I just would like to list the top 10 things I wanna do or achieve by the end of the Year of the Wooden Rooster. I have read yesterday in the lifestyle section of the Philippine Star that the year would be quite okey for me... In fact, the things said in the paper are all positive things and I couldn't help but feel optimistic... so here's my to-do list...
1.) Be smart. I know that I'm a very intelligent person (bragging) yet I'm not smart. I'm always the ditz in the group. In fact my ditiziness even became my main identifying characteristic in the group. So I promise from now on, I'd sharpen and collect my wits.
2.) I'd do good with my studies. I know that I'm a good student. But being a good student still can't help you get good grades. The one thing I wanna change with my student life (i'm gonna be back in dlsu by june or september) is that I'd befriend the professors instead of picking off fights with them. I know that there's an ethical thigie but it did not prevent fucking taur0-batuigas to give me a fucking 0.0 after I have fought with her over almost every Filipi1 discussion. As long as you're a student, one is still in the mercy of the fucking professors... so don't fuck with them... or fuck with them, only be prepared for the consequences.
3.) Grab a copy of every episode of every season of Survivor, The Amazing Race and the Apprentice .. I'm really addicted to reality tv shows. Graba... I mean, ask anything about the shows and i know the answer. Yet, I regret that I only have my memories since I don't have a copy of the whole seasons. One of my task is to search and download all the seasons of the abovementioned shows... that would really be fine and dandy...
4.) Stop being a frigid bitch in the workplace. Instead of being a bitch and an asshole and ranting on almost anything, I'd become a better person. I'd try to love my job and well... stop being so whiney on everything.
5.) Find a replacement for exes Marlon and Elwyn and Jhaye... I think I'm ready to start again...who knows what the future will bring...